We're into our sixth week of stay-at-home orders and even the stellar homebodies among us are getting antsy at this point. It's been awhile since we've met friends at a restaurant or cycled ourselves into a dreadful sweat at the gym. And unless we're actively walking or jogging outdoors or have found wellness apps that offer virtual workout options, we may be starting to feel a bit flabby and unmotivated. Since conducting business is prohibited unless it's deemed "essential" (and that's a pretty subjective definition – just ask the millions of women whose acrylic nails have fallen off), we've had to figure out how to function on our own instead of relying on our routine services.
But we've begun to sort out solutions to help fight the ho-hums, since as they say, necessity is the mother of invention. Here are some alternatives we've found to help solve our most common requirements from home.
Missing Out on Gifts and Celebrations?
We can't just pop over to cousin Kim's right now, but our gift can. Say hello to Bake Me a Wish, a service that will deliver baked goods anywhere in the country. So instead of delaying a personal visit to wish someone well, you can say it with a special delivery. You'll let your loved ones know that although you can't be there in person, you can be there in spirit. And so can your baked goodie. For a limited time,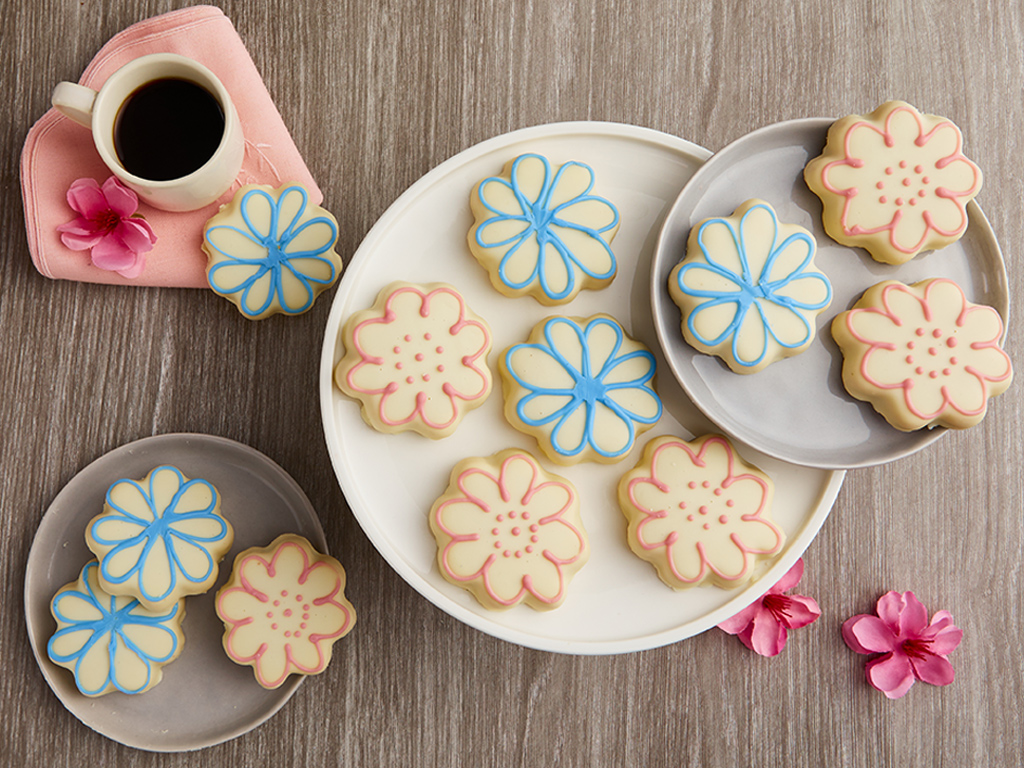 Be Nice to Your Eyes
No doubt we're all on our laptops and devices more than ever. You may even notice that your eyes are tired a few hours into your boundless browsing. Be sure to take care of your peepers — after all we've all been given just two. Take a break when you begin to feel your eyes getting dry or bloodshot. Blue-blocking eyewear can also protect against the detrimental effect high energy visible blue light and UV419. You'll quickly notice a reduction in eyestrain, eye fatigue and blurred vision. Find ones you like and be sure these glasses are on your face before you hit your computer.
DIY Spa Services
You may miss the pampering you get from your favorite facialist but that doesn't mean you should neglect your skin. Take the extra time you have at home to pamper yourself! You can use products you already have or … order in! There are spectacular self-care products on the market and they'll show up at your doorstep within a few days. Carve out time once a week to moisture, mask and nourish your skin. Do that once a week and you'll look radiant by the time you're ready to hit that social scene again. Check out the luxurious products by Elizabeth Arden, now offering an 8-piece gift with any $75 purchase (value $128) + free shipping with code LUXE.
Creating that peaceful ambiance you feel when you're at a professional spa is easy thanks to our phenomenal digital age. Dim the lighting in your room, light some elegant scented candles and ask Alexa to start-up the spa music!
Feeling Frumpy?
Just because you're laying around the house doesn't mean you can't be cute while you're doing it. Thanks to this pandemic, loungewear has made a rapid comeback. Pull out some cute comfies from your closet instead of wearing the same PJs for three days in a row. Even if no one but the Amazon guy has come to your door for weeks you can still look nice. You'd be surprised what it will do for your sense of self-respect and motivation.
It won't be long before we're back out and into our normal routines. We'll be caught up in our familiar hectic lifestyles and this time at home will feel like a distant memory. Make the most of this time — we may never have a chance to escape again for awhile.
Subscribe to our print magazine! Click here:
www.socallifemag.com/subscribe/
Latest posts by Monique Reidy
(see all)